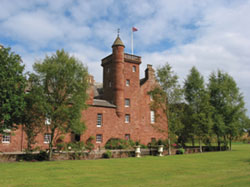 Ethie Castle dates from around 1300 when a sandstone keep was built by the Abbot and Monks of Arbroath Abbey.
After passing through the de Maxwell family, the lands reverted to the Abbot of Arbroath, who later became the Cardinal and Chancellor of Scotland. In about 1530, the castle was remodelled around a courtyard in order to entertain King James V. After Cardinal Beaton's infamous murder in St Andrews, it is reputed that the monks of Arbroath concealed their treasury of church vessels, plates and vestments in the walls of Ethie for safekeeping.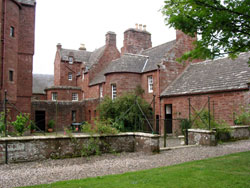 The castle was bought in 1665 by the Carnegie family, who later became the Earls of Northesk. It remained with them until 1928. The 7th Earl was Vice Admiral and commanded with Nelson at the Battle of Trafalgar in 1805. As a tribute, the Earl was entitled to incorporate Trafalgar in his arms and it can still be seen in a dormer at Ethie. It was this Earl who modernised the castle to form a substantial country residence and much of his influence is still found in the castle.
Sir Walter Scott, a friend of the 8th Earl, often stayed at Ethie. During one of his visits he wrote the novel "The Antiquary", where Ethie is reputedly depicted as the legendary Castleof Knockwhinnock with the central character based upon a neighbour during that period.
In recent years the castle has been carefully restored and maintained to form a magnificent home of great character and historic importance.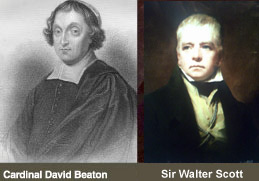 Cardinal David Beaton 198 – 1548
Bishop and politician. Born in Balfour (Fife) and educated at St. Andrews and Glasgow Universities. He negotiated the marriages of King James V (1512 – 1542) with the French court. As Abbot of Arbroath, Beaton sat in the Scottish parliament from 1525.
Beaton was effectively the last Archbishop of St. Andrews, appointed to this position in 1539. A widely hated man who was opposed by John Knox, Beaton was murdered by Protestant reformers in the same year as he executed the widely popular George Wishart.
Shortly after his death his ghost was seen at Ethie and even now, although on much rarer occasions, his ghost has been seen, mainly on a narrow staircase that leads to a secret doorway in his old bedroom. A dragging noise and unexplained footsteps have been heard on regular occasions.